Welcome to Z S Locksmiths
Local Residential Melbourne Locksmiths
Affordable residential locksmith service in Melbourne
Need Affordable Commercial Locksmith Services In Melbourne?
Our residential locksmith services
Repair domestic locks
If you are locked out of your home or your domestic locks are not working properly, you need the help of a professional residential locksmith. You can rely on us for fast and reliable lock repair services. Contact our emergency locksmith services today to get started!
New Lock Installation
If you have recently moved in or moved your office, the very first thing you ought to do is change your door locks. Our talented locksmiths can provide you the most up-to-date information on new and enhanced lock systems. 
Locks opened, supplied & fitted.
If you are locked out of your home or have lost your house keys, our residential locksmiths can help. We can open your locks, supply and fit new locks, and even change your locks if you feel unsafe. We work with various locks(even digital locks), so whether you have a traditional key lock or a modern digital lock, we can help. We also deal with commercial locksmith services. Contact our reliable service for a free consultation.
 Key cutting and replacement. 
We can cut keys for all types of locks, including padlocks, deadlocks, window locks, and more. If you've lost or misplaced your keys, our professional service provides replacement keys. Our mobile locksmith services are just a second away. Talk to our extremely professional service members who use cutting-edge technology by calling us today.
Lock repairs and replacements. 
If your door lock is damaged or worn out, we can repair or replace it for you. We have a wide range of locks available to find the perfect one for your home. Contact our residential locksmith service for lock installation, repair, and replacement and get a free quote.
 Security advice. 
At Melbourne Locksmiths, we can provide you with security advice to help keep your home safe. We can recommend the best locks for your home and suggest ways to improve your home security. Get in touch with our professional locksmith service for a free consultation.
Lock rekeying
One of our most popular services is our lock rekeying service. This is a great option for those who want to keep their security door locks but want to change how the locks work. We can rekey your locks to work with a new set of keys so that you can have a new level of security for your home. Get in touch with Melbourne locksmith for a quick quote.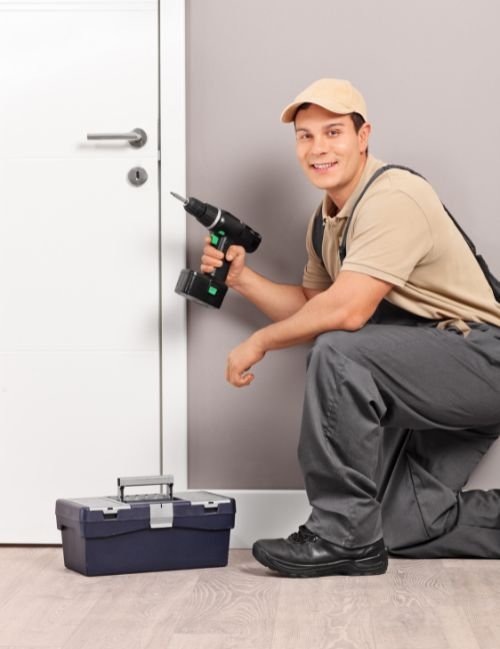 Recode / change locks
If you have lost your house key or want a different key to access your house, you may want to consider recording your locks. Recoding your locks means that they will be changed so that a new key will be needed to open them. 
This is a great option if you want to ensure that only you or people you trust can access your home with the existing locks. If you are interested in recording your locks, call our residential locksmith Melbourne to help you out. 
They can change the code on your locks to only be opened with a specific key. This is a great way to keep your home safe and secure. Our licensed and bonded locksmiths are just a few miles away. Call us today if you need to record or change your keys.
Safes
We offer comprehensive safe and vault service that covers the full range of security needs for both home and business owners. We have a perfect safe for your needs, from small safes for personal belongings to large vaults for protecting valuable inventory and documents. We also provide a full range of safe and vault services, including installation, repair, and maintenance. 
Whether you need a new safe installed or an existing safe repaired, we can help. We also offer regular safe maintenance to help keep your safe running smoothly and protect your belongings. Contact our locksmiths in Melbourne today if you are looking for a safe or vault solution. We would be happy to discuss your needs and recommend the perfect safe or vault for your needs.
 Security system installation.
Our top priority is the security and safety of your home and family. That's why we offer a full range of security system installation services to help protect your home from intruders and burglars. We can install a complete security system for your home, or add security features to your existing system. 
Our security system installation services include: – Home security system installation – Security alarm installation – Security camera installation – Home security system monitoring – Burglar alarm monitoring – Fire alarm monitoring – 24/7 emergency locksmith services. For more information on our security system installation services, please call Melbourne Residential Locksmith today.
Emergency locksmith services
At Melbourne Locksmiths, we understand that emergencies can happen at any time. That's why we offer a 24-hour emergency lockout service, so you can get back into your home as quickly as possible. Locked out of your house? No problem. We're the best locksmiths and can get you back in, no matter the situation.
Padlocks / chains
Residential locksmith Melbourne can provide you with padlocks and chains for your home or business. Padlocks are a great way to keep your belongings safe and secure, and chains can be used to control gates and other entrances locked.
Supply all types of domestic locks
We supply and install a range of domestic locks, including Deadlocks, Yale Locks, Rim Locks, Mortice Locks, Cylinder Locks, Euro Cylinder Locks, and Padlocks. We can also provide a high-security locking system for your home, which includes a thumbturn mortice lock and a euro cylinder lock.
Our Guarantee
We provide a six-month guarantee on all workmanship provided by our locksmiths. We guarantee that the product or service you receive from our company will meet your expectations. If you are not completely satisfied for any reason, we will work with you to make it right.
The Top Signs You Need to Call a Professional Locksmith
Lost House Key
You're not alone if you've ever frantically searched your house for your keys before leaving for work. Indeed, keys seem to be the most commonly wrongly placed or lost objects on the planet. It's inconvenient but not a crisis once you lose your keys at home.
Fortunately, an expert locksmith can easily fix this. They can not only gain access to your residence, but they'll also quickly duplicate your key to ensuring that you have a backup in case of an emergency.
Just Moved
Moving to a new home is always a stressful experience. As a result, it is easy to overlook specific details, but modifying your locks is one you cannot afford to ignore.
So, rather than exposing yourself to future dangers by not shifting your locks or performing a substandard home installation, hire a professional with great customer service to do it for you.
Locked Out of Your Car
Among the most inconvenient mishaps is locking your keys in your car. Unfortunately, it is also extremely common. While the police can do this for you, they presumably have more important things.
They are also not qualified locksmiths, which implies they may cause damage to your vehicle. A locksmith can quickly remove most vehicle door locks, allowing you to get back on the highway in no time.
Added Security
Even if you don't need a locksmith now, the need to secure your home is critical.
If you find yourself in the following situation, the best solution is to call a professional locksmith. Furthermore, don't waste more time if you're here because you are currently in one of these scenarios. Contact our experienced professionals today, and we'll take care of your needs.
You can check on "SCEC Consultants & Locksmiths" to learn more about locksmithing